Meetings
None at this time.
Symposium
UIA49 is POSTPONED
More information to be available after 25 March
22 - 24 April 2020 (Wednesday - Friday)
Warwick University l Warwick, England, UK
Registration Information
Included in UIA49 registration is:
Participation in educational presentations
Copies of presentations in Acrobat format - available for downloading after the symposium
Meals:

Wednesday lunch and full reception
Thursday lunch and evening event
Friday lunch
Morning and afternoon refreshments each day

Sound Solutions Center featuring key ultrasonic manufacturers
CLICK HERE to Register for UIA49
Registration Fees
| | |
| --- | --- |
| UIA Members | $ 950 |
| Non-members | $1,050 |
| Students - Full | $ 475 |
| Student presentation | $ 375 |
| Student Daily | $ 175 |
Sponsors and Exhibitors
UIA values the opportunity it provides to companies interested in sponsoring or exhibiting at UIA49. Here is our 2020 Sponsorship/Exhibitor information. To reserve your sponsorship level or exhibit, please use our Symposium Registration Form and select the UIA Sponsorship Registration Form option. Questions? Email UIA.
Symposium Schedule
Wednesday, 22 April 2020
8:30 Registration and Coffee/Tea
9:15 Introduction and Welcome to UIA49
9:30 An augmented guidance system with multi-modal registration and fast thermal dose computation for thermal ablation of hepatic tumours, Jinao Zhang and Sunita Chauhan, Monash University
10:00 An evaluation of 3D Printed Ti-6Al-4V bone penetrating needles, Rebecca Cleary and Margaret Lucas, University of Glasgow
10:30 Unconference & Refreshments
11:15 Photoacoustics: metrological applications and requirements for quantitative imaging Anant Shah, Aoife M. Ivory, Srinath Rajagopal, Bajram Zeqiri, National Physical Laboratory
11:45 Improved segmentation of Intravascular Ultrasound (IVUS) images using fully convolutional networks in the polar domain, Martin Szarski and Sunita Chauhan, Monash University
12:15 Luncheon
13:15 Exhibitor Presentations
13:30 Keynote presentation: Shock wave induced drug delivery, Robin Cleveland, University of Oxford
14:30 Unconference & Refreshments
15:15 Incorporation of Dynamic Structures in Miniature Ultrasonic Surgical Devices Xuan Li and Margaret Lucas, University of Glasgow
15:45 Numerical modelling of acoustic microbubbles in OpenFOAM Jacqueline Mifsud, Duncan Lockerby, Yongmann Chung, Gordon Jones, University of Warwick; Waters Corporation
16:15 Close
17:00 Wine and Cheese
Thursday, 23 April 2020
9:00 Registration and Coffee/Tea
9:30 Workshops Programme to be confirmed, will include an update on the ongoing topic of lead-free ultrasonic products
11:30 Refreshments & Poster Session (confirmed so far)
A case study in piezoelectric single crystal use for high power applications, Nicola Fenu, Nathan Giles-Donovan, Sandy Cochran, University of Glasgow
A miniature transducer for focussed ultrasound surgery, Jack Stevenson, Margaret Lucas, University of Glasgow
A Predictive Algorithm for Simulating the Dynamics of Flexural Ultrasonic Transducers, William E. Somerset, Lei Kang, Andrew Feeney, and Steve Dixon, University of Warwick
Electromagnetic Acoustic Transducers (EMATs) for driving guided waves on composite aerospace structures, Amato, D.A. Hutchins, S. Dixon, University of Warwick
Suitability of Electromagnetic Acoustic Transducers for Inspection of Titanium Laser Welds, Christian Peyton, Rachel Edwards and Ben Dutton, University of Warwick
In Situ Non-Contact Pressure Measurement of Sealed Units Using Acoustic Methods, Elizabeth Sharp and Steve Dixon, University of Warwick
12:15 Luncheon
13:15 Laboratory Tours
The opportunity to see first-hand the work carried out by the Centre for Industrial Ultrasonics, under the leadership of Professor Steve Dixon, the Centre Director. There are a range of exhibits, covering the Centre's diverse portfolio of projects, including flow system characterization and Non-Destructive Testing.
18:00 Evening Banquet
We will return from the laboratory tours in good time for you to rest, relax and refresh, before we travel by coach for the Symposium Banquet, to be held in the Undercroft at the historic medieval Warwick Castle, complete with between-course entertainment. Take time to enjoy the scenic setting alongside the banks of the River Avon!
Friday, 24 April 2020
9:15 Registration and Coffee/Tea
9:30 Air-coupled Ultrasonic Transducers Operating through Electromagnetic-Mechanical Coupling Mechanism Lei Kang, Andrew Feeney, William Somerset, and Steve Dixon, University of Warwick
10:00 Flexural Ultrasonic Transducers for Hostile Environments: Resilience to Elevated Pressures, Andrew Feeney, Lei Kang, William Somerset, Steve Dixon, University of Warwick
10:30 Unconference & Refreshments
11:15 Optimizing Joint Interface Flatness for Piezoelectric Stacks of Ultrasonic Transducers Dominick A. DeAngelis, Gary W. Schulze, Kulicke and Soffa Industries
11:45 Unconference and UIA Business Matters
This time is set aside for discussion about ideas and issues identified by participants, and to update delegates on matters of UIA Business
12:15 Luncheon
13:15 Keynote presentation: Real world applications of High Power Ultrasonics, Mike Draper and Rob Perkins, Sonic Systems Ltd
14:15 Unconference & Refreshments
14:45 Parallel and Series Resonance Operation of High-Power Ultrasonic Systems Jens Twiefel. Leibniz Universität, Hannover
15:15 Latest Developments in Dukane's Technologies Leo Klinstein, Dukane Corporation
15:45 UIA49 Concludes
Accommodations at Warwick University
Book Your Accommodations at Warwick University
Click on the button above for the B&B booking page for the 49th Annual UIA Symposium 22-24th April at the University of Warwick, Coventry. Booking must be completed by 16 March 2020.
The event is taking place at Scarman 22 -24 April, details on how to find us can be found on https://warwick.ac.uk/services/conferences/location
The bed and breakfast booking include:
Self-service full English and Continental breakfast served in the restaurant, on-site parking, free Wi-Fi, all rooms have en-suite bathrooms and are equipped with television, tea and coffee making facilities, towels, toiletries, and hairdryer.
The special agreed rates for the booking are:
Double room for single occupancy bed and breakfast £105.60 including VAT
Double or twin room for double occupancy bed and breakfast £129.60 including VAT
A credit or debit card will be required to complete your booking as payment in full is required at the time of booking.
If you wish to book additional nights PRIOR to 20 April or after 25 April, please contact Abbie Johnson at Warwick Conferences directly for assistance
The site will be open for booking until 16 March 2020.
Poster Presentations
We welcome poster presentations for UIA49. Please submit your poster proposal on our
We are looking for posters on medical applications for ultrasound and industrial ultrasound applications. We will have a full poster session on Thursday, 23 April 2020. We also welcome research results and updates.
Abstracts should be up to 200 words discussing aims and outcomes - graphs and supplemental materials are not required at this time. Deadline for posters is 16 March 2020.
Creating Your Posters
UIA will be using an ePoster platform - there will be no need to create an A1 printed poster. Your poster will be presented via a mini-poster that you will create online and you will have the ability to upload a wide range of supporting documentation.
If you plan to publish your research, please refer to ePosters and Publication information below.
You will have the ability to incorporate any of the following items in your ePoster: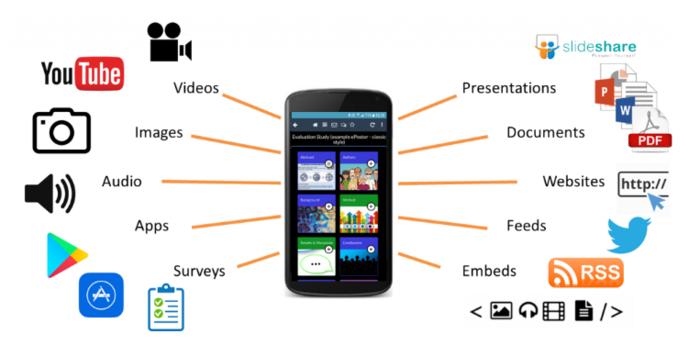 Your ePoster will have both a physical and online presence at the UIA Symposium - a mini-poster that will be displayed and an interactive ePoster that will be available online for up to one year. As a poster presenter, you make both of these within the Learning Toolbox.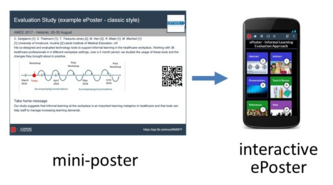 our ePoster will also live beyond the event, as you can continue to share it and even add to it after the event. However, you control this option if you plan to publish an article in the future. You can send out messages to your ePoster viewers within the ePoster and your viewers can post questions or comments to your ePoster, to which you can respond. This discussion will be attached to your ePoster and can continue after the event.
Once your poster is accepted, you will be sent an invitation to log-in and start your ePoster. This will include your personalized link to the Learning Toolbox so you can start creating your ePoster.
More information
Here are samples of ePosters for you to review, along with commentary about what makes them so effective.
Below are three links with more information.
Help
USA is providing a personal help desk for ePoster development. Just call UIAduring business hours Monday - Friday from 9:00 am to 5:00 pm EST (USA).
E-posters and publication
There have been some concerns raised that having the e-posters available online after the conference could impact future publication. We have confirmed that most journal editors would not consider the publication of conference posters to be "prior publication" and thus having an e-poster should not prevent submission of a full-length research article in a journal. As with all things, if you are planning to submit your work to a journal it is important to confirm this with the specific journal to which you are planning to submit. Additionally, make sure that you are not duplicating text between the poster and the journal article so that it does not get tagged by plagiarism software and acknowledge that you presented at the conference and cite the abstract/poster when you submit. You will also have the option to NOT have your poster available online after the conference.
Unconference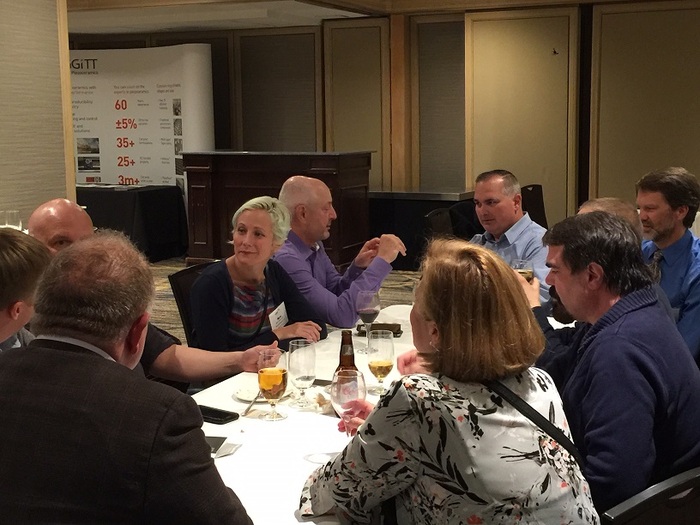 Participants enjoy spirited conversations about ultrasonics during the UIA48 Monday reception.
Past UIA Symposia and Workshops