Symposium
UIA52

8 - 10 April 2024

Hyatt Centric the Liberties

Dublin, Ireland
Our 52nd annual symposium is chaired by Dr Andrew Feeley, Lecturer in the Centre for Medical and Industrial Ultrasonics at the University of Glasgow. Medical applications and industrial applications will be discussed.
The three-day symposium will feature a day focusing on industry interest and importance in ultrasonics will be central to discussions among delegates on Tuesday, followed by poster presentations. To conclude Tuesday, delegates with a tour of the Dublin Liberties Distillery.
Ireland i8s the home to many ultrasonic manufacturers, as well as a central and easy location for flights from Europe, UK, and UA.
Conference Schedule
UIA52 will begin on Monday, April 8 and will conclude by 5:00 pm on Wednesday afternoon, April 10.
General Information
UIA52
8 - 10 April 2024
Hyatt Centric the Liberties, Dublin, Ireland
Based on our successful multi-access conference in 2023, we will be offering a virtual component so that participants from around the globe unable to travel to Ireland will still be able to participate.
Multi-access (and what this means)
The Symposium will accommodate both live and virtual participants. The schedule for the Symposium has been designed for easy viewing for both UK and European participants and those from North America. All presentations will be live streamed and participants will be able to answer questions and participate in unconference discussions.
To cover the production costs for the virtual platform the registration fee will be the same as the early registration for live participants.
UIA52 Code of Conduct
UIA is committed to providing a safe, productive, and welcoming environment for all meeting participants and staff. All participants are expected to abide by this Virtual Programs Code of Conduct.
UIA has zero-tolerance for any form of discrimination or harassment, including but not limited to sexual harassment by participants or our staff at our meetings.
Unacceptable Behavior is defined as:
Harassment, intimidation, or discrimination in any form.
Verbal abuse of any participant or UIA staff member.
Examples of verbal abuse include, but are not limited to, verbal comments related to gender, sexual orientation, disability, physical appearance, body size, race, religion, national origin, inappropriate use of nudity and/or sexual images in public spaces or in presentations or threatening or stalking any participant.
---
Registration
Registration Fees
Live registration fees:
Members
$799
Nonmembers
$999
Students $495
Poster Presenters
$199 (includes Tuesday and your choice of either Monday or Wednesday at no additional charge
Daily registration - Members
$425
Daily registration - Nonmembers
$599
Virtual registration Fees:
Members $650
Nonmembers $850
Daily - members $299
Daily - nonmembers $499
Students Full - $495
Students Daily - $199
UIA is pleased to underwrite student participation as a full symposium participant OR as a poster presenter. Students submitting posters have the choice of adding either the Monday Industrial Sessions or the Wednesday Medical Sessions at no additional charge.
Featured Speakers
Featured Keynote Speakers
We will announce our keynote speakers as they are confirmed
Program Schedule
Full Symposium Program Schedule
As our program is completed, you will find the schedule here.
Travel Info
Hyatt Centric The Liberties - our Symposium Headquarters
Located in The Liberties district of Dublin, close to disterillies, Guiness Brewery, and St. Patrick's Cathedral, our hotel offers room rates of €160 starting Sunday, April 7. Saturday rate is €185. You can use the link below to make your reservation from Saturday, April 6 through Thursday, April 11. If you want to stay longer, please contact the hotel reservations directly.
Click HERE to make your hotel reservation.
Getting to Dublin, Ireland
Getting to Dublin is a breeze. Dublin Airport is one of the busiest in Europe, with hundreds of daily flights providing a huge range of options to get here.
Direct flights are available from most major cities in the UK and continental Europe, several hubs in North America, and the Gulf cities of Dubai and Abu Dhabi. Connecting hubs hook up with further flights from all over the world, providing for easy access to the Irish capital.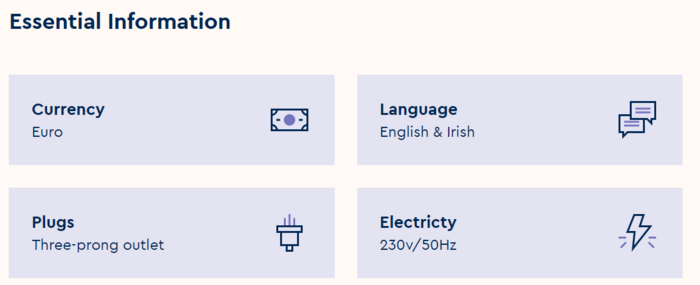 Planning your trip to Dublin
Currently, you do NOT need a visa to visit Ireland (which is NOT a member of the EU) if you are a citizen of the USA, EU or the EEA (the EU plus Iceland, Norway and Lichtenstein) or Switzerland.
Visa free travel also applies to the following types of British nationality:
British national (overseas)
British overseas territories citizen (previously called 'British dependent territories citizenship)
British overseas citizen
Visa free travel does not apply to people who have a British passport as a 'British protected person'.
If you have a short stay visa for the UK and are an Indian or Chinese citizen, you can travel to Ireland without a visa.
Check here to see if a visa is required if your citizenship is not listed above.
Whilst in Dublin
Past UIA Symposia and Workshops