Symposium
UIA49
22 - 24 April 2020 (Wednesday - Friday)
Warwick University l Warwick, England, UK
Presentations
We welcome presentations for UIA49. Please submit your presentation or poster proposal on our
We are looking for presentations on medical applications for ultrasound, industrial ultrasound applications, and workshop ideas. We will also have a full poster session. Medical and industrial applications will be 25 minutes; workshops on Thursday morning will be 60 minutes. We also welcome research results and updates.
Deadline for submissions is 16 December 2019.
Registration
Included in UIA49 registration is:
Participation in educational presentations
Copies of presentations in Acrobat format - available for downloading after the symposium
Meals:

Wednesday lunch and full reception
Thursday lunch and evening event
Friday lunch
Morning and afternoon refreshments each day

Sound Solutions Center featuring key ultrasonic manufacturers
CLICK HERE to Register for UIA49
Registration Fees
Register prior to 10 January 2020 to save.
| | | |
| --- | --- | --- |
| | Before 10 January 2020 | After 10 January 2020 |
| UIA Members | $795 | $ 950 |
| Non-members | $910 | $1,050 |
| Students - Full | $475 | $475 |
| Student presentation | $375 | $375 |
| Student Daily | $175 | $175 |
Sponsors and Exhibitors
UIA values the opportunity it provides to companies interested in sponsoring or exhibiting at UIA49. Here is our 2020 Sponsorship/Exhibitor information. To reserve your sponsorship level or exhibit, please use our Symposium Registration Form and select the UIA Sponsorship Registration Form option. Questions? Email UIA.
Accommodations at Warwick University
Book Your Accommodations at Warwick University
Click on the button above for the B&B booking page for the 49th Annual UIA Symposium 22-24th April at the University of Warwick, Coventry. Booking must be completed by 16 March 2020.
The event is taking place at Scarman 22 -24 April, details on how to find us can be found on https://warwick.ac.uk/services/conferences/location
The bed and breakfast booking includes:
Self-service full English and Continental breakfast served in the restaurant, on-site parking, free Wi-Fi, all rooms have en-suite bathrooms and are equipped with television, tea and coffee making facilities, towels, toiletries, and hairdryer.
The special agreed rates for the booking are:
Double room for single occupancy bed and breakfast £88.00 +VAT
Double or twin room for double occupancy bed and breakfast £108 +VAT
A credit or debit card will be required to complete your booking as payment in full is required at the time of booking.
The site will be open for booking until 16 March 2020.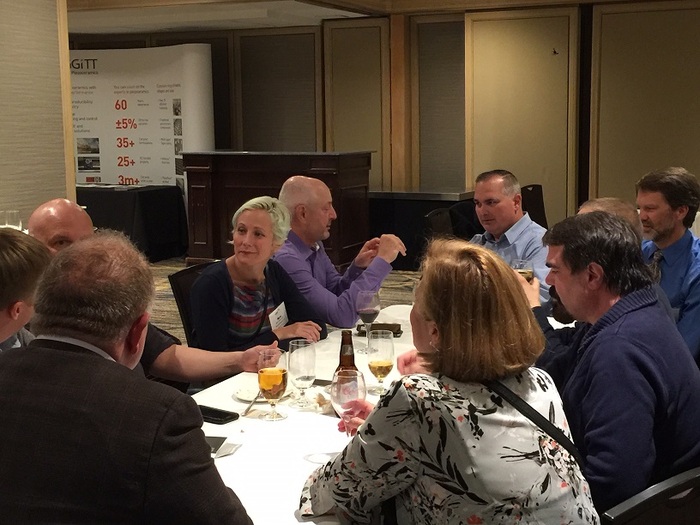 Participants enjoy spirited conversations about ultrasonics during the UIA48 Monday reception.
None at this time.
Past UIA Symposia and Workshops